Alistep screens remove large waste before the raw water is sent to the treatment system. The range of screens covers requirements from 50 to 3000 equivalent population.
Screens are installed upstream of the treatment system, in particular first-stage flushes, when using reed bed filter treatment.
Simple to use and requiring no power Alistep screens need hardly any maintenance (regular rinsing with a water jet).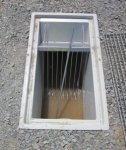 This type of screen is best suited to medium and large capacity plants.
The 40, 30 or 20 mm mesh, made of stainless steel, holds back the coarse waste in the raw water. The screen can be fitted with a bypass (as an option).
Waste is removed by running a stainless steel rake over the screen. Waste is decanted into the stainless steel drainage tank behind. this can be easily removed using the handle.
The tank can be supplied with a bypass, in case the screen becomes clogged and with a "pebble trap" which has been shown not to be necessary when using our feed flushes.
There are two models (two capacities) :
The polyester tank forming the structure with a maximum capacity of 0.5 cu. m. (L x W x H : 1000 x 500 x 600 mm).
The polyester tank forming the structure with a maximum capacity of 1.2 cu. m. (L x W x H : 1500 x 500 x 800 mm).
The height of the intake can be adjusted on request.
The use of polyester make installation easy and requires no special equipment.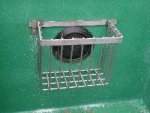 This type of screen is suitable for low capacity systems. The basket is made of stainless steelwith a 40 mm mesh and is positioned under the raw water inlet in the first-stage flush.
 
The waste is retained while the water pours into he storage tank. The basket can be easily removed for emptying when required.